Aloha from KL, Malaysia!
Aloha from Kuala Lumpur!!!
Boy what a ride!
I must admit Malaysia was not on my list initially but I decided to visit for 4 days and it was definitely worth it!
I had spoken with a few people and they all told me that Malaysia didn't have a buzzing culture like Thailand for example. Coming here made me realise that those people are wrong and they just didn't (unfortunately) get to see the real Malaysia, through a locals' eyes.
Before I went, I asked a Malaysian friend for her best tips – places to go what to eat etc. This amazing soul went a step further and arranged for me to stay with her parents. Expecting just a couch to sleep on, I ended up being treated like a VIP guest, with special tours and food tastings. JUST WOW!
I flew from Chiang Mai into Kuala Lumpur and from there I took a 2h bus to Melaka. The reason I decided to visit Melaka was because it was first colonised by the Portuguese. In April 1511, Alfonso de Albuquerque set sail from Goa to Melaka with a force of some 1200 men and seventeen or eighteen ships. They conquered the city on 24 August 1511. (In 1641, the Dutch defeated the Portuguese in an effort to capture Malaka, with the help of the Sultan of Johore, but that's not relevant right now…). Melaka is a cute little town definitely worth visiting for a couple of days!
Once you're there you'll have a map and obviously you should visit all the main attractions. For me the best part was of course A Famosa (in English – The Famous), what used to be a Portuguese fortress located in Malaka. It is among the oldest surviving European architectural remains in south east Asia. The Porta de Santiago, a small gate house, is the only part of the fortress which still remains today. It was a little bit underwhelming to some extent… to think of the whole Portuguese Empire back then and to look at what remains… for a Portuguese person, it saddens me a bit. But hey! At least we were there, and we left a little mark!
I loved the river across the little town, it is just my type of thing in the evening, when the sun is going down. Perfect place to relax and enjoy a drink and see the water slowly waving.
I also visited the Portuguese settlement (an Uber from the centre of Melaka was only 6/7RM) but unfortunately it was early in the morning so everything was closed down and it didn't have much life to it. The Uber driver told me it is usually more vibrant at night time.
After spending a day and a half in Melaka I made my way down to Kuala Lumpur again, where I met my hosts. AND THIS IS WHERE THE REAL FUN BEGAN!
Indra, my friends' dad, is known for his LingamNightTours. We had such a big laugh!!! Indra and Ron were amazing and kind enough to show me around KL. We drove, both during the day and during the night. I got to see the Petronas Twin Towers, the KL Tower (or Menara KL), Chinatown and Little India. These last 2, as expected, had a great vibe to them! It did fell that I was, straight away, transported to another country.
I also managed to go to Batu Caves, a limestone hill, stunning!!! The cave is one of the most popular Hindu shrines outside India, and is dedicated to Lord Murugan. It is the focal point of Hindu festival of Thaipusam in Malaysia.
The way up was just a few steps and before I began, a few workers were at the bottom asking everybody going up to take a bucket of sand. At first I didn't realise what it was but, obviously if you think there is no other way up and if there are works going on, that's actually a really cool idea. I took one, everybody took one.
Don't worry about getting tired on the stairs because you will be forced to stop multiple times anyway… THE MONKEYS! They were super cute but not the politest of animals… I was there smiling at them and all the sudden this one comes and stills a little kids' juice! The kid was in shock for a second and then just started yelling and crying. I know who's going to hate monkeys for the rest of his life!! Poor little guy.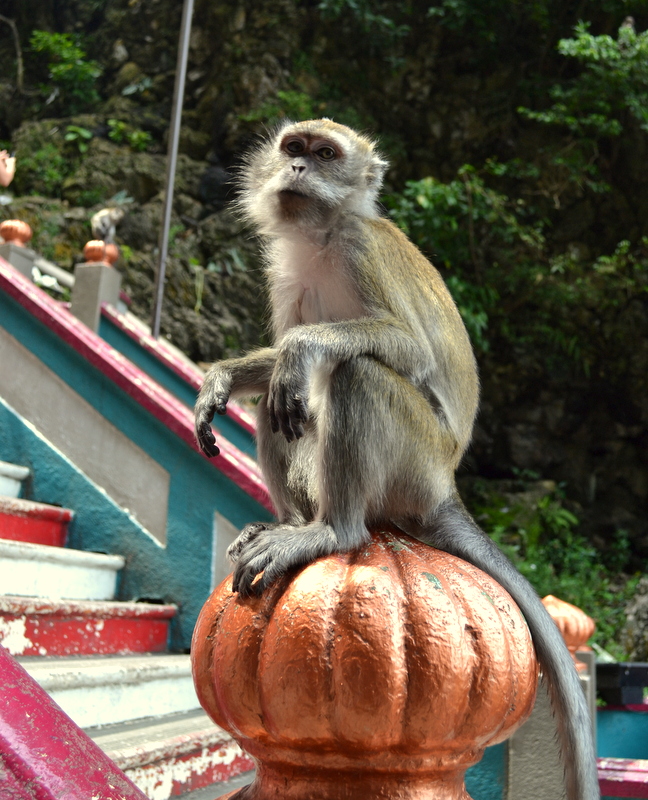 (Slide left to see all pics). Anyway, loads of pictures with the monkeys and at some point they seemed to be eating better than me! One had a chocolate croissant and another one even had a whole chicken leg!!! I mean… dude where did you get that from??
Once you get to the top, the caves are a stunning. So beautiful it makes you realise that Mother Nature is really out there doing its thing. For the lack of better words (yes I wrote this, left it blank for a few days; came back and still couldn't find the right words), here are a few pictures:
I was also quite surprised with the malls in KL and I quickly found out how Malaysians love their shopping. I suppose being inside of a cool mall is just what you need when it's so hot outside!
Other than all of this… All I can recall is food!!! I am doing another post just on what I ate because otherwise it will be a massively long post.
I must admit I can't advise you as to how to commute to any of these places in Malaysia because we drove everywhere. Apparently one of the best places for accommodation and atmosphere is Chinatown so have a look at that. I bet there is a lot you can discover by walking around.
As for the Batu Caves, there is a train that can take you there and from the train you can easily get a taxi. Don't forget to grab a coconut water when you finish your visit, in one of the coffee shops at the bottom.
Overall, I wish I had more time in Malaysia to go and explore some of the islands. Penang and Langkawi are meant to be beautiful so hopefully, I will visit and share it with you at some point.
What about you? Tell us where you have been. Share your thoughts and tips so I can start planning :D
Just some info that might be handy for you:
Bus ticket from KL airport (klia2) to Melaka Sentral: 26.28RM.
River Cruise in Melaka: 56RM
Taming Sari Tower in Melaka: 23RM
Bus ticket from Melaka Sentral to KL TBS: 12RM